CARAVAN'S TIME AND SPACE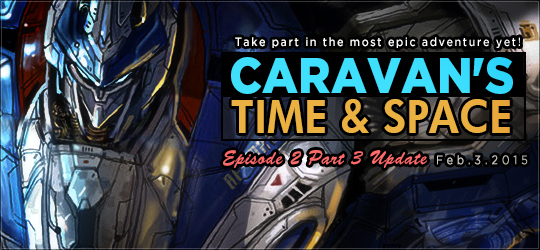 Update 2.3 is finally coming your way!
Take part in the most epic adventure yet!
Take the plunge into the Caravan's Time and Space for great risk but greater rewards!


ANCIENT RINGS AND AMULETS
Monsters from Destroyed Novazans Fortress, Jetso Island, and Caravan's Time and Space can drop Ancient accessories.
There are 5 types of accessories: Spirits, Mind, Elle, Toom, and Facial. Each accessory will have a letter rank. "A" is the lowest quality accessory with the worst statistics, and "O" is the highest with the best.
Having a set of Ancient Accessories (i.e., 2 rings and 2 amulets of the same type) will give you a set bonus. The higher the quality set, the better the stats.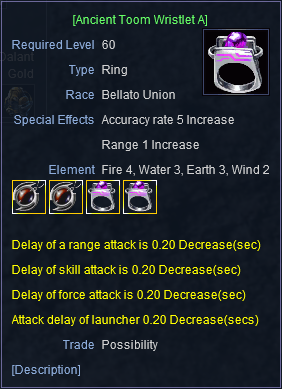 AUTO-TARGETING
Players will now be able to auto-target enemies, bringing more intensity to PvP.
You can now target the enemy easily by using a hotkey.
| | | | |
| --- | --- | --- | --- |
| Function | Hotkey (Before) | Hotkey (After) | Description |
| Auto-target | N/A | Tab | Targets an enemy |
| Change Hotkey Tab | Tab | ` (CTRL + ` for keyboard mode) | Changes skill hotkey sequence |
| Hide Character Name | ` | = | Hides character name |
Press the "Tab" button again to switch between targets.
Pull up the "Options" menu to change your settings. You can change your target range and change whether if you want to target enemies closest to your mouse or your character.
The auto-targeting function is still in beta development, so there may be some bugs and inaccuracies.
LEVEL 70 GUARD TOWERS, TRAPS, MAUS, AND SIEGE KITS

Level 67, 70 Guard Towers and Traps
Purchase these state-of-the-art guard towers and traps by talking to "Miscellaneous" in Ether.
Level 70 MAUs
Tune your current MAU into a level 70 MAU! This change can be done by talking to the "MAU" NPC.
Level 70 Siege Kits
Purchase level 70 siege kits for launchers or flame throwers at the "Rare Tool" NPC in the Accretian HQ.
LEVEL 70 ANIMUS
All animus can now be leveled up to 70.
MAUS GAIN EXP
Bells will receive EXP when fighting in MAUs. Like the rest of the server rates, MAUs will receive 300% EXP off the base server rate. For more information on the server rates, read
here
for more details.
LAUNCHER AMMO AUTO-RELOADING
You can now auto-reload launcher ammunition. Once your launcher runs out of ammo, it will automatically start using ammo in your bag.
The new ammunition must be the same type as the previous type.
New Area: ELITE ARMY TRAINING SCHOOL
Exciting PvE and PvP areas have been added! Find the portal for the training school at the portal closest to the "Race Manager" NPC in the HQ. You must be level 51-55 or 56-60 to enter.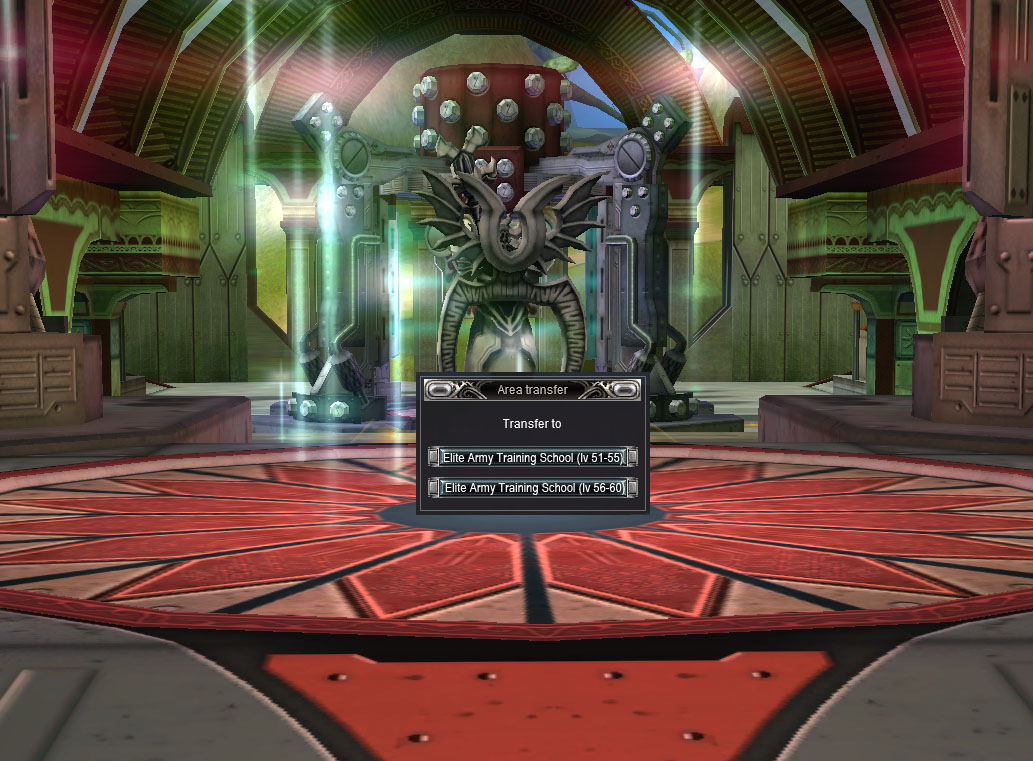 The first map is PvE and is race-specific; no other races other than yours can enter.
The second stage is PvP and any race can enter.
NEW QUESTS

Instant Order Quests
You will receive quest(s) instantly when reaching level 56 - 65. Generous prizes are rewarded for completing the quests.
If you are already a certain level in that category, you will not receive the quest. For example, if you are currently level 61, you will not receive the level 61 instant order quest. You will instead receive a quest immediately when you reach level 62.
Elite Army Training School Quests
Talk to the "Hero" NPC to recieve "Solo" and "Party" quests for the Elite Army Training School. You can do these quests once a day.
NEW CRAFTING
| | | | | |
| --- | --- | --- | --- | --- |
| Main Item | Sub Material #1 | Sub Material #2 | Sub Material #3 | Result |
| Level 67,70 Normal Armor Piece | Talic Crystal x5 | Racial Currency | - | Level 67, 70 Intense Armor Piece |
| Level 67,70 Intense Armor Piece | Talic Crystal x5 | Racial Currency | - | Level 67, 70 Type C Armor Piece |
| Ancient Accessory | Talic Crystal | Gems x1-4* | Racial Currency | Ancient Jewelry (higher quality) |
All crafting may not be successful and may lead to item destruction.
* Ancient accessory crafting has a higher chance of success if you add in gems. Higher tier gems give you a higher probabilty of successful upgrading and a higher quality accessory. You can only add in 1 type of gem, but you can stack up to 4 of the same gems in one slot, as shown below.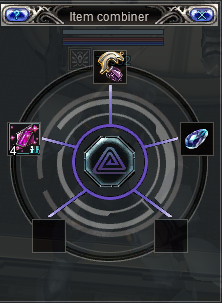 New Area: CARAVAN'S TIME AND SPACE
Monsters from Novazan's Fortress will drop "Caravan's Time and Space Keys," which is required to enter "Caravan's Time and Space." There is a level 66-70 restriction.
The portal location to "Caravan's Time and Space" is located at coordinates X: 9 Y: 13